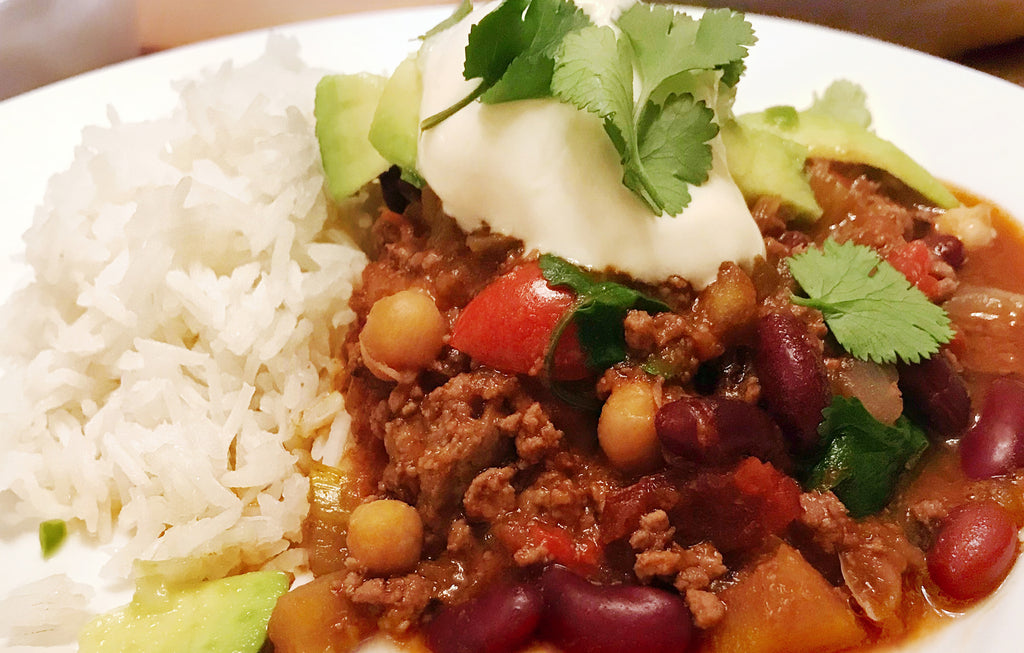 We have long since added something a little sweet to our home cooked chilli however this is the first time we tried using apples and chocolate. The finished dish was really good. You couldn't quite taste the apple or chocolate but there was a sweetness and richness that you couldn't quite put your finger on! 
Most of the ingredients are easily found, Chipotles en adobo are available in Sciclunas Deli, Doncaster Market Place, and of course we used our own minced beef. 
The avocado side dish was really simple to put together. We did consider not making it to save time but it was definitely worth the tiny bit of extra effort.
The picture above was taken by Carol after following the recipe at home, for the first time.
Chilli con carne
2 tbsp rapeseed or olive oil
500g minced beef
Salt and freshly ground black pepper
20g butter
2 onions, peeled and finely chopped
2 sticks celery, cut in half lengthways, then finely chopped
2 apples, peeled, cored and diced
3 garlic cloves, peeled and finely chopped
1 stick cinnamon
1 tsp ground allspice
1 tsp ground cumin
1 tsp dried oregano
1 small hot green chilli, finely chopped (optional)
2-3 tbsp chipotles

 

en adobo (or to taste), finely chopped
1 x 400g tin kidney beans
1 x 400g tin chickpeas
2 x 400g tins plum tomatoes
300ml beef stock
250ml medium-bodied red wine
45g dark chocolate (min 70% cocoa solids), roughly chopped
1-2 tbsp brown sugar, to taste
To serve
Soured cream
2 large ripe avocados
2 limes, juiced
1 green chilli, finely chopped
½ shallot, peeled and finely chopped
1 bunch coriander, leaves picked, stalks finely chopped
It's a good idea to measure and chop the ingredients first.
Heat half the oil in a large casserole on a high heat. When it's sizzling hot, add the beef, season generously with salt and pepper, and brown for about five minutes, breaking up any clumps of meat with a wooden spoon. When the meat has coloured nicely, transfer it to a bowl, add the rest of the oil and the butter to the pan, and turn down the heat to medium-high.
Add the onions and celery, season and cook, stirring, for five minutes on a medium heat. Add the apple and garlic, stirring for a few minutes more to soften the garlic. Stir in the spices, oregano, green chilli (if using) and the chipotle, and cook gently, without colouring, for five to 10 minutes more, until the vegetables are soft.
Drain and rinse the kidney beans and chickpeas, and add both to the pot with the tinned tomatoes, browned mince, stock and wine. Bring to a simmer, stir in the chocolate and sugar, and leave to simmer gently for 25-30 minutes. 
Peel and stone the avocados, then put in a bowl with the lime juice, chilli and shallot, and mash with a fork. Stir in a small handful of chopped coriander stalks and season generously with salt.
Serve on steamed long-grain rice with soured cream, lots of chopped coriander leaf and the salsa.
The original recipe is found here:
theguardian / chilli con carne / thomasina miers 
ENJOY!